Walking With Dinosaurs Costume,dinosaur costume halloween,realistic dinosaur costume,homemade dinosaur costume,diy dinosaur costume,real dinosaur costume,dinosaur costume ideas,dinosaur dress up ideas,dinosaur clothes ,DWE3324-27
1).Material: Inner(High quality metal framing - light) + Outside(Advance light silicon rubber)
2).Movements: Mouth open and close synchronize with the sound, neck to head moving left to right-up and down, stomach breathing, tail swaying , claws forward and back , eyes blink , body up and down.
3).Sounds: Dinosaur alive roaring sound
4).Power: None.
5).Accessories included: None
6).Remarks: All of our animatronics products made up of well treated metal frame ( international export standard) Movements,skined and fleshed with a high density foam , sculpted by our professional artists team with a high grade silicon rubber , which make an alive-look , good touch and smooth movements animatronic dinosaurs .
Suitable for indoor and outdoor use .
Can be displayed at Exhibition show , Dino & theme park , Museum , Playground , Exhibition show , Super market etc...
Dimensions : L=4.2m , W=0.5m , H=1.8m ( This dinosaur can be shipped by a whole unit )
Super realistic walking with dinosaur costume
a person in a puppet-like custome that looked like an actual dinosaur walking around. The mouth & eyes moved and everything! It really looked real! In this shot the dinosaur is looking directly at the visitors. Ever notice clients will be shocked by the real like movements and sound speak out by the dinosaur.

Making process of dinosaur costume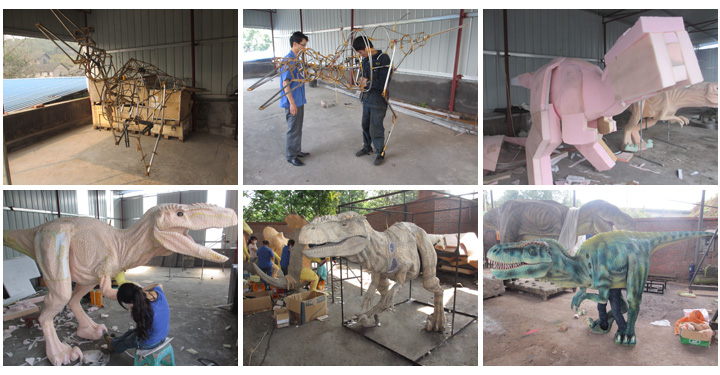 Accessories for dinosaur costume in the flight box
| | | | |
| --- | --- | --- | --- |
| | | | |
| Brake lines | Charger | Voltage converter | Glass plastic |
| | | | |
| Stocking | Glue | Socket | Paint Pigments |
We provide standard flight box for packing and transporation the dinosaur costume to clients' place in order no damage when shipping .


Shipping method and shipping time
By Air

( 6Days-9Days )

By Train

( 27days-45days )

By Sea

( 21days-38days )

Domestic Carriage

( 3Days-5Days )
Part View Of Our Clients Visiting Our Factory From 2008



DINOSAURS WORLD
DINOSAURJOY
ROBOT DINOS
ANIMAL MAKER
KID PLAYGROUND EQUIPMENT
ANIMATRONICS DINOSAURS